I am an Agile Practitioner, whether a Scrum Master or an IT Project Manager. I was a software developer from June 2008 to June 2015 and a Project Manager from August 2015 to February 2016. Before that I spent 7 years working my way from part-time computer support to Systems/Network Administrator & IT Team Lead of a 500 person, multi-campus regional company. Before that I did 2 years as a phone support technician for a PC manufacturer. With over 14 years of IT industry experience spread across both system administration and software development I see IT in a broader scope than most.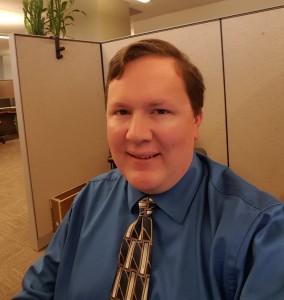 I am coaching positive change within my team, group, and company. I am looking to provide the best solutions, delivering the most value to organizations in the shortest practical time. I believe that even as I move from implementing Agile to teaching Agile to others I will never be done learning it.
This is not my journey alone. This is our journey. As you learn from me I will also learn from you. Together we will constantly refine what it being Agile means in our organizations. One person's right choice today could be another's wrong choice tomorrow. We will always strive to make the best choice we can with the information we have while accepting new information to the last practical moment. Join me. Let us take Our Agile Journey together.
Adam Myhr, PMI-ACP, PSM 1
I may occasionally use an affiliate service when reviewing or mentioning products. The one I currently use is Viglinks.